CASE STUDY
GetResponse
How GetResponse Automates their Competitive Intelligence to Save Over 400 hours a Month & Drive Internal Alignment
CASE STUDY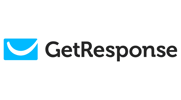 ABOUT
GetResponse is an all-in-one marketing platform with integrated features that you need to run online campaigns. Their organization views competitive intelligence as a critical element to their business's success. So the collection and analysis of competitive intelligence were spread across four different teams.
Note: Participants were compensated for their participation in the creation of this case study. The opinions expressed here are their own.
THE CHALLENGE
With over 100,000 customers and a crowded marketplace, GetResponse needed a tool that would save time and resources to fuel their competitive advantage.
Reduce hours of manual research
Create a central repository of intel
Scale the number of competitors tracked
THE SOLUTION
After exploring CI tools, the Kompyte platform stood out among the rest for its user-friendly interface & breadth and depth of data provided. Kompyte provided tools to:
Condense the amount of time spent collecting insights
Scale the competitors tracked without affecting their bandwidth.
Automate collecting, analyzing, and disseminating intel.
THE RESULTS
Since using Kompyte, the GetResponse team has felt that its competitive analysis process is simpler and more straightforward. Kompyte enabled Get Response to:
Streamline competitive intelligence collection & analysis
Create a single source of truth
Drive alignment across the organization.
"We can spot competitive opportunities or strengths that could have been missed through a manual review of our competitive landscape."
"Kompyte is a great place where we've centralized all of our competitor insights to make it easier for our organization to access. Once you get Kompyte set up, it runs on its own."
"With Kompyte we have the tools we need to collect and distribute insights across teams. And, Kompyte's support is really great —they are always happy to jump on a call when we need them."