Enable the conversations that close.
Give your sales team what they need to overcome objections and win more deals. Even the tough ones. Every plan includes all time-saving automations and integrations, personalized onboarding and setup, and a dedicated customer success manager.
Essentials

Professional

Unlimited
Essentials

10 Companies Tracked
25 User Licenses
Unlimited Battlecards & Reports
Unlimited Company Profiles

Get Started

Professional

20 Companies Tracked
100 User Licenses
Unlimited Battlecards & Reports
Unlimited Company Profiles
Unlimited Companies Database



Get Started

Unlimited

Unlimited Companies Tracked
Unlimited User Licenses
Unlimited Battlecards & Reports
Unlimited Companies Database
Unlimited Company Profiles
Single Sign On (SSO)
Advanced User Permission Mgmt

Get Started

CI Automation
AI Insight Curation

Automated Company Profiles

Automation Workflows & Alerts

Sales Enablement & Reporting
Unlimited Battlecards

ROI Reporting, Win/Loss Analysis

Battlecard Adoption Analytics

Unlimited Reports

Custom Dashboards

Data Sources
Website Tracking
50 URLs per company
100 URLs per company
150 URLs per company

Mentions

20k mentions/mo
20k mentions/mo
20k mentions/mo
RSS: Blog, Dev, Press

Industry Thought Leaders (Press, RSS)

Job Post Hubs: LinkedIn, Indeed, Glassdoor

Reviews: Glassdoor, TrustRadius, Capterra, G2

Social Media: LN,FB,TW,YT,IG

App Tracking: Google Play, App Store

Search Marketing (Ads & Organic)
200 Keywords
200 Keywords
200 Keywords
Collaboration Tools
Email & PDF Sharing

Kompyte Browser Extension

Feedback Loop & Team Insights

Integrations
CRM: Salesforce, Hubspot

Sales Enablement Tools

Slack, Teams

All-in-one custom support
Onboarding fees
$0
$0
$0
Dedicated Customer Success Manager

Team Onboarding & Training

On-demand Support

Platform Configuration
Calculate the ROI of Kompyte
# of Sales Reps

How many sales reps will use the Battlecards to Win deals to the competition?

# of Competitors

How many competitors would you like to keep track of?

Competitiveness

What is the % of sales deals with one or more competitors involved?
---
| | |
| --- | --- |
| Research Savings | Prevented Losses |
| | |
Total ROI: $454,004
We're Dedicated to Your Success
No bandwidth? No problem! Reach your goals faster with your dedicated customer success manager.
We set you up to win with customized implementation, optimization, and ongoing consulting from day one.
While our advanced AI and workflows do nearly all the work for you, we are always here if you need us!
"With real-time insights and amazing support from the Kompyte team, our product marketing can analyze all competitive insights to truly differentiate our go-to-market strategy."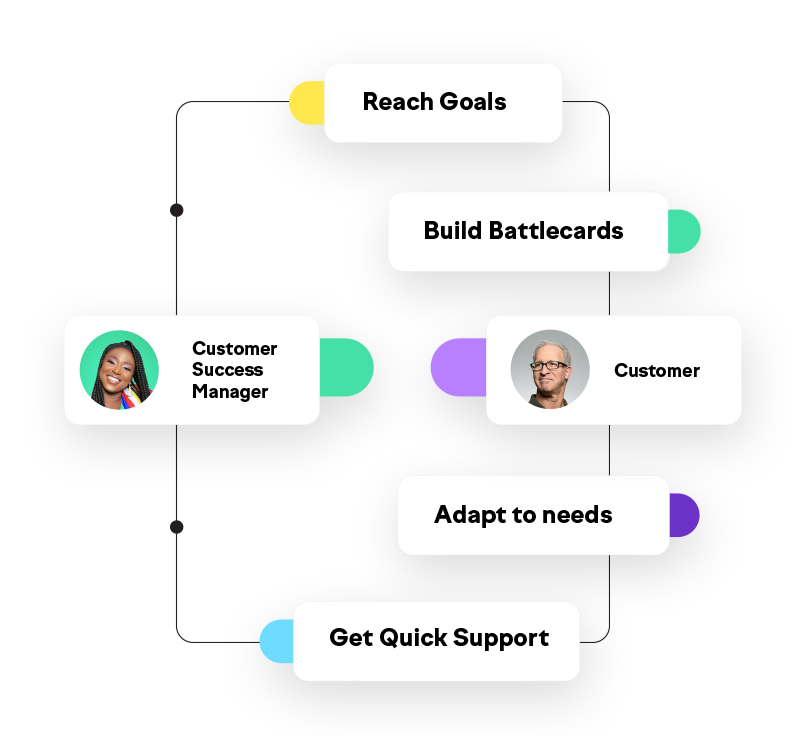 From day one, you'll work with your Kompyte CI specialist to:
Reach your goals faster with hands-on implementation support. Start seeing insights in 24-48 hours.


Surface only the most actionable intelligence as we tailor AI behavior, reports, and workflows to your needs. You'll be building Battlecards in a flash!


Adapt to changing needs. Consulting sessions are the perfect opportunities to check up on goals and progress, update reports, and help new team members onboard.


Get quick support for new initiatives and answers to questions that arise. Our onboarding, workflows, and advanced AI do nearly all the work for you, but we're here if you need us.
CI Faster Than You Thought Possible
Full implementation and deployment takes an industry-best one to two weeks, but you'll start seeing insights in 24-48 hours.
Over the next two weeks, we work with you to build out reporting, refine automations, and thoroughly train your team.
Periodic reviews allow us to reflect on performance and goals, identify new threats and opportunities.
What is Kompyte and why do I need it?
Kompyte is a competitive intelligence platform that automatically surfaces actionable insights from top competitors, enabling sales teams to win more deals, product teams to plan smarter roadmaps, and marketing teams to formulate stronger messaging, positioning, and campaigns. With Kompyte you can track and act on the entire competitive landscape using about an hour a week.
What data sources does Kompyte monitor?
Kompyte tracks millions of data points and hundreds of sources including websites, product pages, review sites, online media and digital PR, blogs, app stores, financials, job postings, and more.
Does Kompyte integrate with other software and tools?
Kompyte integrates with CRMs, content and communication platforms as well as project and management tools to surface the insights your sales team needs in the tools they use every day. Tools we work with include Slack, MS Teams, Salesforce, Hubspot, Highspot, Showpad, Trello, Google Drive, MS OneDrive, and more. We're adding integrations all the time!
Does Kompyte offer support for SSO?
Yes, Kompyte offers certain plans with SSO included.
How long does it take to start seeing competitor insights?
While full implementation can take 1-2 weeks, you'll start seeing actionable data in as little as 24-48 hours from the time we enter your competitors into Kompyte.
Are there any setup, onboarding, or support fees?
No. There is no charge for setup, onboarding, or ongoing support and business reviews with your dedicated Customer Success Manager.
Can we change out competitors and if so, is there any cost associated with this change?
Yes, competitors can easily be changed without incurring any additional costs.
Do you charge extra for integrations with other platforms?
No. All of our integrations are included at no additional cost. And we're adding more all the time.
Is there a limit to the number of Battlecards and/or reports that can be created?
There is no limit to the number of Battlecards or reports that can be created.
Can Battlecards be created for competitors outside of the tracked competitors included in our subscription?
Yes, you can manually create competitor Battlecards in your Kompyte account allowing you to centralize Battlecards for untracked competitors.
What is your pricing based on?
The factors determining price are: the number of competitors tracked, the number of licenses you need, and whether or not you require SSO and advanced permission management. All plans include customized setup, onboarding, and ongoing support with your dedicated customer success manager.
How do you define a "user"?
Any person logging into Kompyte, sharing or consuming competitor intel via email, email digest, in the CRM, or via other integrations needs a user license.
Am I locked into a long-term contract?
Kompyte offers annual plans. Shorter subscription periods may be available for a premium.
What types of payments do you accept?
Credit card, wire transfer, and check.
See the Power of Competitive Intelligence Automation.
Get started with a tour of the Kompyte Platform.