battle card
How to Conduct a Competitive Product Feature Analysis
Performing a competitive product feature analysis sounds like a lot, but with our step-by-step guide, you are on your way to better differentiation, powerful messaging, and a more strategic product road map.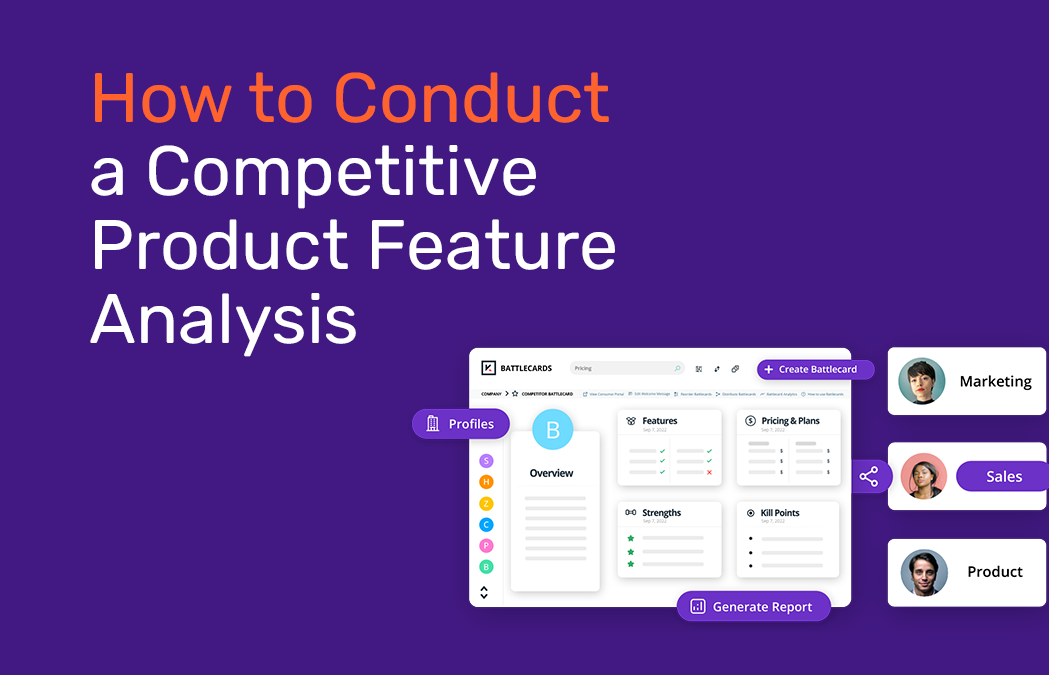 Your product feature analysis enables sales teams to differentiate your product, go-to-market teams to exploit your strengths in messaging, and product teams to prioritize what to build next.
That's a pretty heavy lift for any competitive intelligence project, but we'll go step by step to guide you through planning, research, analysis, and measurement. Ready?
What is a Competitive Product Analysis?
A product feature analysis compares the main features of a product or service across the competitor landscape.
This kind of analysis reveals the strengths and weaknesses of each product as well as opportunities for new feature development.
How to perform a product feature analysis
Let's go through the five steps together.
1. Identify your competitors.
You know these people already. Stick with brands in your category that offer similar products and services to an audience that is similar to yours. Once you have a firm grasp of the features of the direct competitors you can come back and do the same thing for indirect competitors.
2. Create a list of core features.
Analyze competitor websites, marketing collateral, and third-party review sites to identify your competitors' feature set. If possible, sign up for a free trial or purchase/subscribe to each product. Be sure to take note of how the product works, what features are available, the benefit/value of each feature, and if it costs extra.
Use a table to visualize and organize your findings. Each row holds a competitor and each column a feature. For example, if you're Monday.com, your product feature overview might look something like the one below. Here's the Feature Overview chart from our competitive product analysis template (get yours here).
3. Find proprietary features/key differentiators.
What are those features you offer that the competition has yet to develop? Which are the competitor features that cause you to lose sales? Drop those into your template or spreadsheet as well. You're probably already getting some ideas for more effective messaging and sales enablement!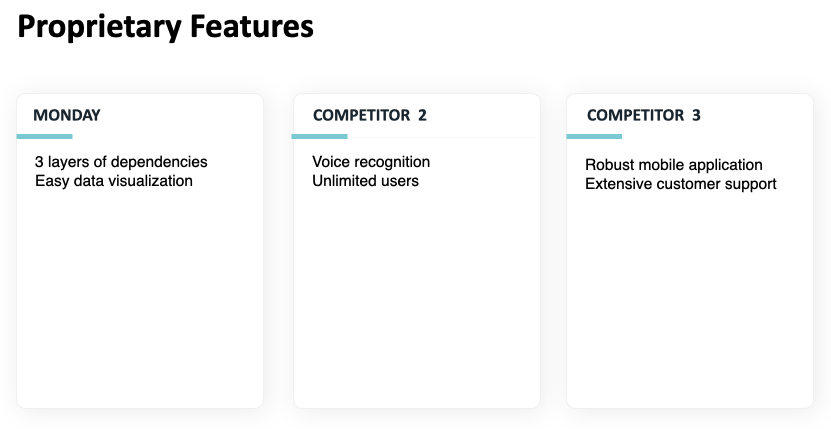 4. Map out product integrations.
The ability to use your product with the tools your prospective customers already use is often a deal maker - or breaker. Where do you shine and where might you be losing business?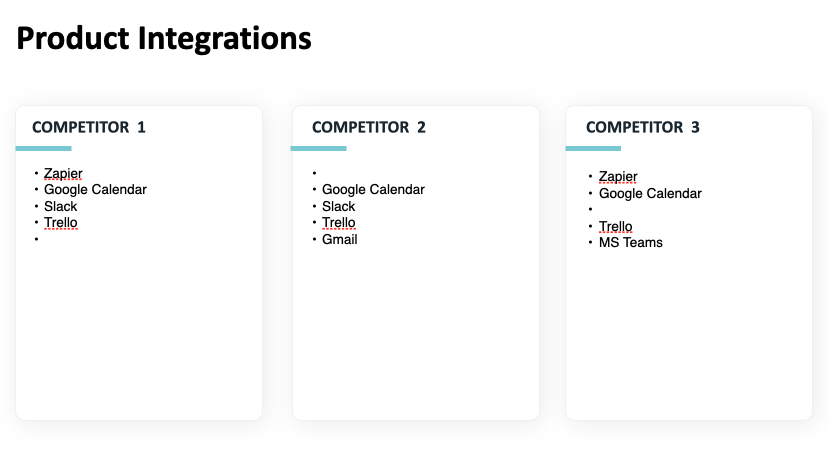 5. Summarize your findings.
Key learnings might include insights about their apparent audience targets. Is one CRM heavy on sales while another caters to marketing?
As you compare features, what do you see as opportunities? For example, if your competitors don't have a feature that is key to a particular segment of users, you could double down on your promotion to that cohort.
As for threats, you might be going after the same audience but notice that your competitors have some of the features current customers request or that result in lost deals.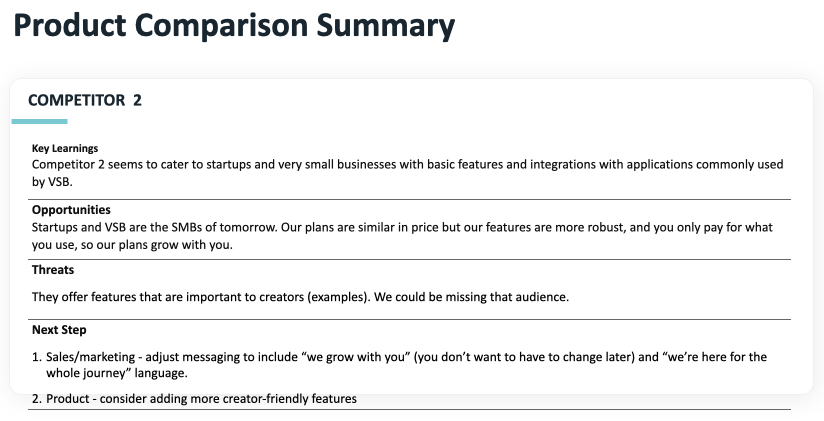 Next steps: how to act on your product feature analysis
Your product analysis was more than an interesting intellectual exercise. What you learned needs to influence all the teams at your company. Proposing next steps for each is vital to putting this work to use.
An all-hands meeting might be the perfect time to share your findings, but you'll want to follow up with the teams individually as well.
Download the Kompyte Product Analysis Template
Don't just share — start inspiring action
Sharing and inspiring other teams within your organization is the most critical and challenging aspect of a competitive analyst's role. Make sure every stakeholder not only has access to your intel, but that those insights are tailored to their specific role in the organization.
For example, any product gaps or missing features should be presented to your product team so they can consider developing these features moving forward. In many cases, they will bring a unique perspective to your analysis and know exactly how to one up the competition. This will ultimately help create additional benefits for your customers. Examples of insights your product team might find help are:
Feature enhancements by competitor, those that give added benefits.
Integrations with other technologies that may give a competitor an advantage.
Acquisitions and mergers within an industry that may give a competitor new intellectual property.
Your marketers should have a unique view into your analysis as well. They focus on how your competitors take their products & features to market. Competitor messaging across the web, social media, and other platforms will give you insight into what resonates best in today's market, as well as how you can stand out and steal market share. Make sure to share with marketing:
Key differentiators and the benefit of the problems you solve.
What messaging is most relevant and engaging with your buyers.
Trending topics online where your competitors are present and you are not.
Finally, your sales team needs to stay tuned in to the competitive landscape. Your sales team needs to know how to identify a competitor based on feature/benefit, quickly counter competitive claims, and demonstrate value at any time. Quick, concise cheat sheets ("Battlecards") are best for these fast-moving competitive deals.
Some points the sales team will be especially interested in are:
Your proprietary or differentiating features.
Your product's standout strengths.
Messaging to counter objections based on threats from the competition with your product's strengths("kill points").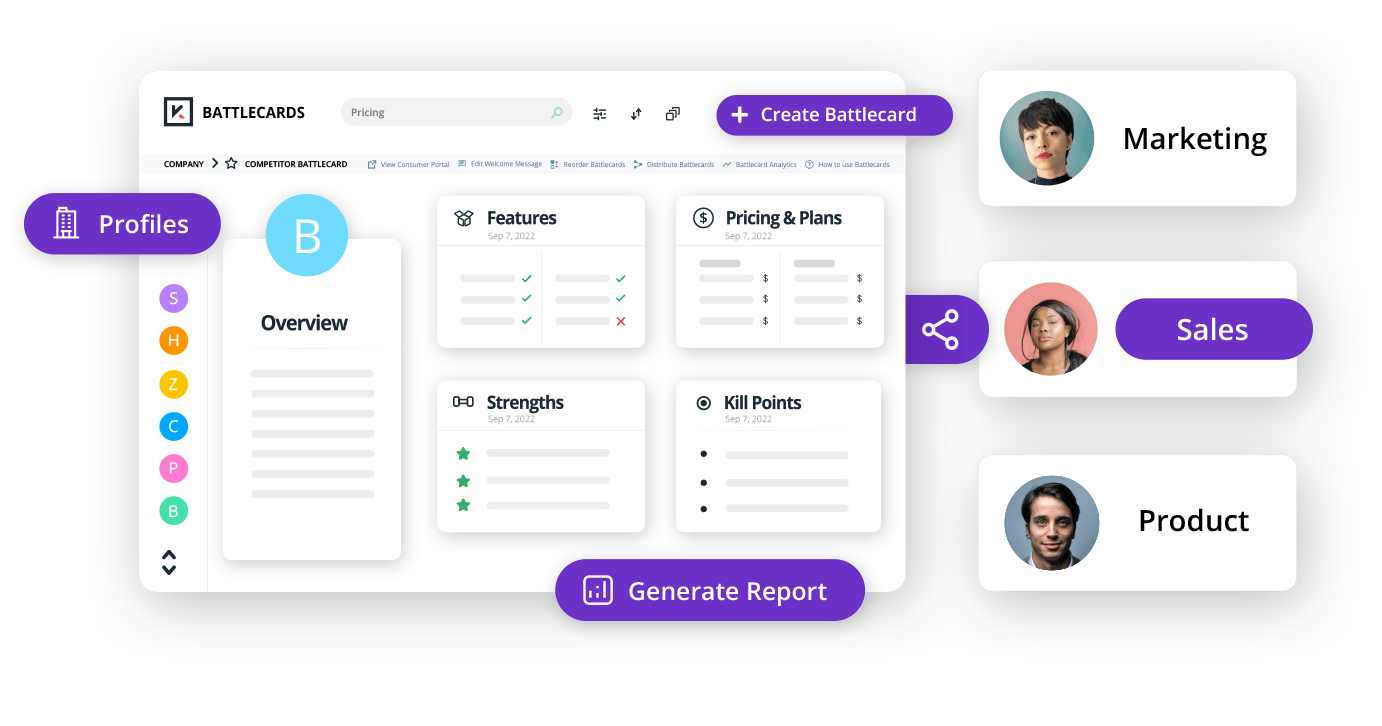 Measure success
Depending on who uses your intel, the KPIs for measuring success will vary. But it is always a best practice to set goals around each area up front and in agreement with the leadership team.
Sample KPIs may include product usage and adoption of new features. Identify popular features and the impact they have on increasing product usage, retention, cross-sells and win rates, as well as how they increase overall company revenue.
Conclusion
Your competitive product feature analysis can enable all your teams to more deeply understand and (most importantly) better perform against the competition. Five simple steps and a bit of follow through are all you need.