sales enablement
Competitive Intelligence: It's Sales Enablement and So Much More
When most people think of competitive enablement, they automatically think of sales. But, they're not the only ones that can benefit from CI. Teams across your organization can make use of competitive and market intel to increase productivity and performance, achieve strategic goals.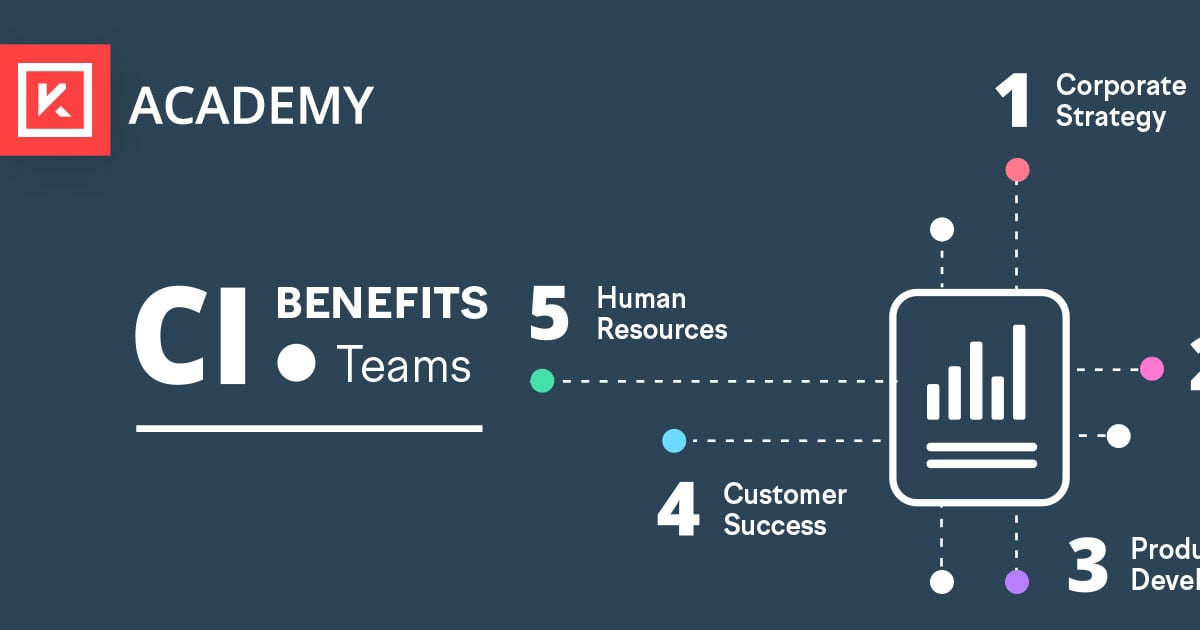 5 Teams that Can Benefit from Competitive and Market Intel
"We're delivering valuable competitive insights to Sales and beyond. From sharing insights that drive our Product Management roadmap, helping Marketing create targeted demand gen campaigns, to educating HR on recruitment and talent acquisition strategies, we're seeing our impact across the org." ~ Patrick Wall, Head of Competitive Intelligence at Imperva
When most people think of competitive enablement, they automatically think of sales. After all, knowledge is power, and what sales rep wouldn't want to have the inside scoop on what their competition is up to? But while it's true that your Sales team can definitely benefit from competitive intelligence, they're not the only ones. Many teams across your organization can make use of competitive and market intel to increase productivity and performance, stay on top of trends, and achieve strategic goals.
Organizations are increasingly adopting this more holistic view of competitive enablement. In strategy, planning and execution, these companies recognize the value of external information and analytical insights. A 2021 study by SCIP found that 70% of businesses that grew revenue as a direct result of their competitive intel program planned a CI team headcount increase. 61% of these companies planned a non-headcount CI budget increase. This is a clear indication that competitive intel is increasingly valuable to companies.
So what other areas of your organization, besides Sales, could benefit from competitive enablement? Here are 5 teams that can improve performance by leveraging CI and MI insights.
Corporate Strategy
"For me, it's hard to separate competitive strategy from straight-up strategy. Understanding our competitive landscape is just a crucial part of company and product strategy overall. Because with our strategy, whatever it is, we want to target this type of customer with this product – and this is why we think customers will value it." ~ Alex McDonnell, Market Intelligence Lead at Airtable
Let's begin at the top of your organization. Generally, corporate strategy is equated with competitive strategy. So, competitive intel should be, well, corporate intel. Large or incumbent organizations, however, can be slow to use competitive and market intel to develop and test new strategies, products and markets. If the company is a market leader, risk averse, or the industry has not yet been disrupted, it's easy to dismiss the need to regularly maintain, distribute and use robust and real-time market and competitor data.
The problem is that in the absence of an organized CI initiative at the corporate level, different levels of the organization, from business units to product teams, may not align on strategy or their view of markets, customers, and competitors. The various strategic stakeholders within your company need more than periodic information and data to drive strategic decisions and performance. They need regular insights that connect the dots between the 3 C's that drive corporate strategy and decisions: competitors, companies and customers.
Competitive intel provides these insights. A holistic CI and MI approach enables your company to ensure that Product Development, Marketing, Sales, Customer Experience and other departments are all armed with the same knowledge and thus aligned in their decision-making. It also helps them adopt more agile strategies that fuel corporate-wide innovation and growth.

Product Marketing
"We've seen huge improvements to the workflow between Product Marketing Managers and Sales since implementing our Competitive Enablement program. Competitive intel quality is up, quantity is up, and time spent on it is down." ~Tirrah Switzer, Director of Product Marketing at Community Brands
When your Product Marketing team knows what your competitors are saying about their products and services, they can adjust their messaging accordingly. In addition, the team can use competitor marketing materials as a benchmark to evaluate your own. Are you doing a better job of speaking to your target audiences? Are you more creative and engaging? These are important questions that can be answered by monitoring your competitors' marketing strategies.
In addition, Product Marketing teams must strive to make their products and services stand out in an increasingly crowded market. CI can help the team achieve this. By understanding emerging patterns and trends in the market through a CI and MI program, the Marketing team can position your company as industry experts and thought leaders. With insights into customer behavior and reactions to competitors, the Marketing team can more effectively differentiate and position your products and services through content marketing and other campaigns.
Product Development
"With Product, sometimes it actually feels like the opposite type of work from Sales and Customer Success, where they want to know where we win and how we play to our strengths. Product also wants to know that, but they generally tend to be very interested in where the gaps are today, what are the things we should be investing in,etc." ~ Andrew McKotter-Bickness, ClickUp
Outside of Sales, competitive and market intel benefits product and service development teams the most. At a basic level, your Product Development teams need to know what new products, services and features competitors are offering, to whom and for how much. This kind of information informs product roadmaps, resource allocation and defines options for investment and launch strategies.
A more holistic competitive enablement program empowers Product teams to drive innovation and growth by being on top of industry and customer trends and identifying gaps and opportunities in the market. Armed with competitor product analysis reports, teams can improve their product innovation and performance by obtaining and processing external knowledge about competitors. They can generate blue sky ideas that solve problems and fill emerging or unmet customer needs.
Finally, a CI and MI program also helps reduce the costs and risks associated with new product development, which in turn improves overall performance. For example, competitor success and failures and customer reviews can offer insight into what the market does or does not need.

Customer Success
"Understanding what competitors are helping other customers do can help you figure out
whether or not you're going to play against them in the market." ~ Clint Buechler, Rhino
Customer-related intelligence enables Customer Success teams to get outside of the organization and "listen" to the voice of current and future customers in the market itself. Intel could be in the form of customer reviews of your company or its competitors, brand or product mentions, stories of new deals signed by competitors, customer mentions of specific needs, preferences and so forth. In fact, much of the same intel that your Customer Success team needs can be integrated with Marketing and Product Development intel initiatives.
Staying ahead of the competition isn't just about acquiring new customers; it's also about keeping the ones you already have happy and loyal. CI can empower Customer Success teams with talking points they need for conversations that promote upselling, retention, satisfaction and demonstrate an understanding of their needs and ability to meet them better than competitors. If the team knows that a competitor is offering a new service or feature that your customers might find appealing, then your Customer Success Managers can be prepared with an equally compelling offer if customers inquire about it. If a competitor experiences an issue that causes their customers to start defecting en masse, being able to quickly address any customer concerns will go a long way towards ensuring that your customers stick with you.

Human Resources
The war for talent is real. Competitive intelligence can help your company win it. By monitoring industry hiring trends, and competitor hiring strategies and benefits your HR department can ensure it is doing what it takes to retain your existing talent and attract needed talent. In addition, competitor intel such as headcount reductions or additions can provide insight into your competitor's performance and future plans to scale up or down.
New hire profiles can also provide insights into future product roadmaps and strategies. Employee reviews can provide insights into the pros and cons of a competitor's company culture, management and organizational structure. Once you have formulated your hiring trends and other HR intel reports, they can be leveraged to onboard and arm new employees with the market intel and insights to hit the ground running.
GET STARTED
Competitive Enablement is Corporate Enablement
"In our heated competitive space, we prioritize not only competitive collection but also enabling our company with this intel. Our team captures critical insights to connect the dots between buyers, our sellers, and win/loss drivers. Using our Competitive Enablement platform, we make these insights actionable for our teams to not only drive revenue but to support our go-to-market plan." – Jarod Greene, Vice President of Product and Customer Marketing at Highspot
As these five examples illustrate, competitive enablement is about much more than giving your Sales team a boost; it's about giving your entire organization the insights it needs to succeed against the competition and win in your markets. Competitive Intelligence has thus become a role within itself in many high performing companies for good reason. In today's rapidly evolving business landscape, it's more important than ever to maintain a competitive edge. Implementing a competitive intelligence program may seem like a daunting task, but when done correctly, it can provide significant benefits for every team in your company.
Get started empowering all of your teams with the right CI tools and resources that give them the best chance to succeed. Learn how Kompyte delivers competitive enablement by providing integrated competitive and market intelligence to teams.
Reach out to schedule a demo.