sales enablement
Top questions to ask yourself when running a competitive SWOT analysis
A competitive swot analysis can be daunting — start with these top questions to identify key strengths, weaknesses, opportunities & threats. Free template.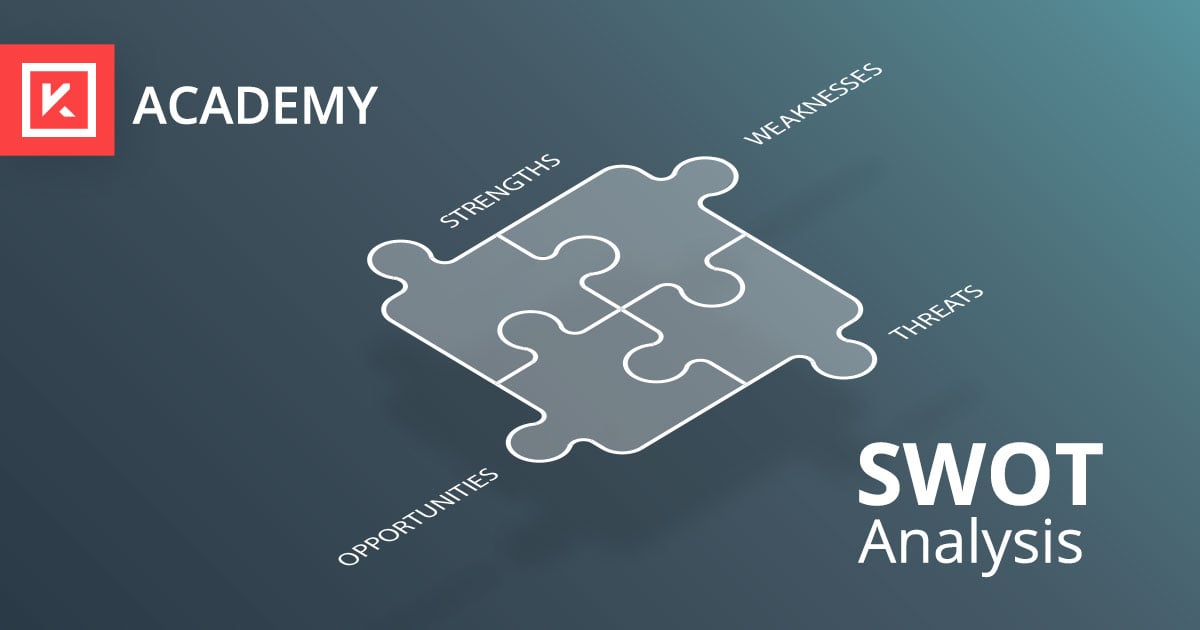 A SWOT analysis is a strategic planning exercise that provides a framework for identifying the strengths, weaknesses, opportunities, and threats that affect your business internally and externally.
SWOTs are customizable and can be conducted at the organizational, departmental, or project level. The results of your analysis can offer powerful insight into the market and your competitive landscape. This will guide you in prioritizing actions that suppress weaknesses, minimize threats, and capitalize on opportunities.
To get started, download the Kompyte free SWOT analysis template or customize your own matrix for each element of the analysis. Strengths and weaknesses will typically be internal factors, while opportunities and threats will typically come from external sources.
Involve the right people in a brainstorming session to discuss each element in depth. SWOT analyses are generally used by the product, sales, and marketing teams. However, you should foster collaboration by also including business owners, the leadership team, and other individuals from across the company to unearth different viewpoints.
Questions to ask:
Below are sample questions the team should discuss as they fill out the matrix. It is important to let go of all of the bias and be thoroughly honest about your strengths and weaknesses. Also, be sure to keep in mind the audience you are delivering the results of the analysis to. For example, your SWOT used to onboard new sellers within your organization may be much different than the one you present to executives or board members.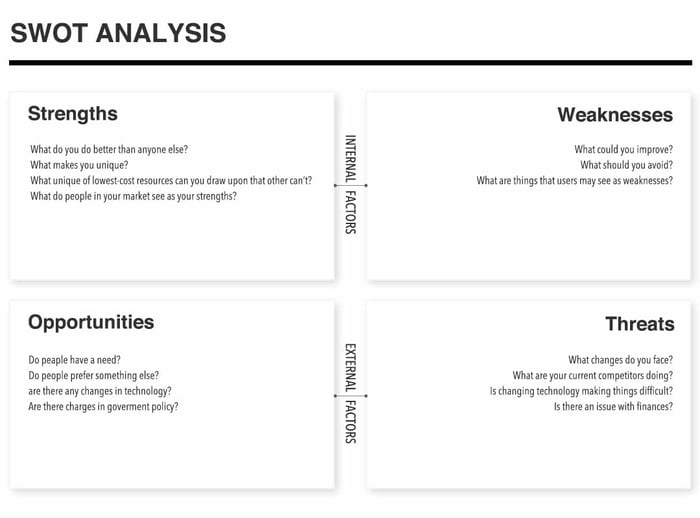 1. Strengths: The first factor of the analysis are Strengths. Strengths are internal factors that a company excels at.
What are your key differentiators?
What do you do better than your competitors?
Where are you most profitable?
What do prospects perceive your strengths to be?
What features/functionality/value does your product deliver that your competitors lack?
2. Weaknesses: Weaknesses are internal factors such as organizational challenges that limit a company's productivity.
What are the areas you could improve upon?
What shortcomings are you experiencing?
What resources are you missing?
What features / functionality does your product lack?
What characteristics might a prospect view as a weakness?
3. Opportunities: Opportunities are typically external factors that could be seen as great possibilities for a company to succeed and grow.
Can you provide additional value to your customers?
Are there similar products or services that provide an opportunity?
Can you use technology to improve your process?
Are there new markets you can pursue?
4. Threats: Threats are generally external factors that pose a risk or create vulnerabilities that could hinder a company's success.
What hurdles are you facing?
Who are your competitors and has your competition increased?
What are your competitors doing?
Are customers buying alternate solutions? Why?
Is changing technology making things difficult?
Are there economic issues or changes in your industry?
Compile the results and take action
Once the discussion is finished, compile and analyze the results. Use the results to develop and a strategic plan for each area that can be presented to key stakeholders. The plan should include ways to convert weaknesses into strengths and threats into opportunities. You should be leveraging your strengths to capitalize on opportunities and minimize threats.

From here, create an action item list and plan (be sure to prioritize the weak areas).
When done correctly and consistently, a SWOT analysis is a fantastic tool for promoting discussion and arming your team with an arsenal of information to help you predict changing trends. Use these powerful insights to guide your strategic decision-making process using your available resources and capabilities.
It is recommended you conduct a SWOT analysis at least every six months as a check on your current business environment in relation to your competition, and also prior to the start of any new major initiatives.