competitive intelligence
Revolutionize Competitive Intelligence with Kompyte's Groundbreaking AI GPT Suite
Introducing groundbreaking AI features to enhance your competitive intelligence program. Kompyte GPT is here!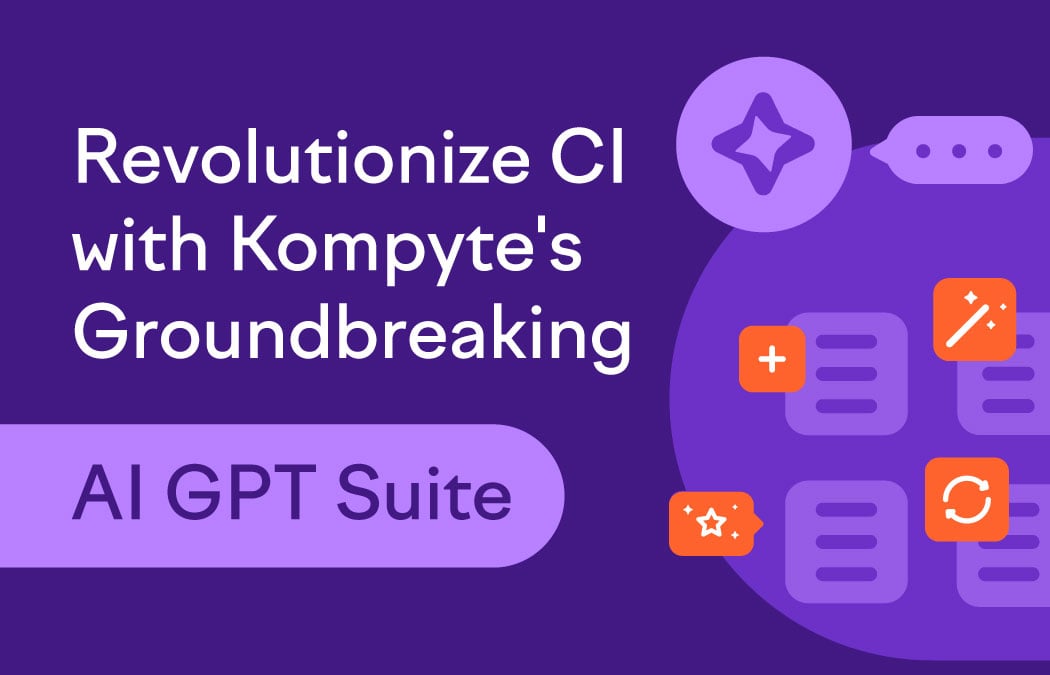 It's true that Kompyte's best-in-class AI scans over 500 million data sources every day, delivering only the insights you need to stay ahead of your competitors. And you may have heard that our customers enjoy an average of up to 30% increases in win rates when they adopt Battlecards. Also true.
But countless companies (like yours?) haven't yet gone all in on a competitive intelligence program for one simple reason - lack of time. Even with automation, it does take time to set up and update competitive intelligence resources. Sometimes more time than you have.
Today, we're thrilled to announce a game-changing set of features that further set Kompyte apart - our advanced generative AI capabilities.
AI Auto Summarize allows you to get instant takeaways for every insight. Competition moves quickly, but now you'll move even faster! With a single click, get the core details you need. Need to make edits? You can customize the summary to suit your needs, add context, or ask for an entirely new summary with the "regenerate" option.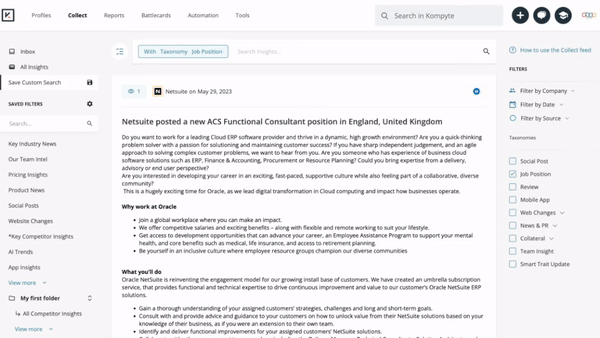 But this is just the beginning. We're paving the way for more AI-powered features designed to optimize your competitive intelligence strategy. Here's what you can look forward to in the days and weeks to come.
GPT Assistant: Access a ChatGPT-like feature within Kompyte. Get answers to your most pressing questions - all based on the data in your account.
AI-Powered Daily Competitor Insight Summary: Stay one step ahead in minutes with a daily summary of all your competitors' activities.
AI-Powered Battlecard Creator: Our AI will automatically generate Battlecards tailored to your industry, meaning you never need to create a Battlecard from scratch.
AI-Powered Battlecard Updater: Will automatically update your Battlecards based on new information Kompyte detects, meaning you always have the most relevant and up-to-date insights to win over your competition - with no manual work required.
GPT-Enhanced Search: Makes it easier than ever to find the exact information you're looking for in the instant you need it.
Kompyte is leading the way in competitive intelligence AI, providing the most advanced and efficient solutions for your needs.
Stay tuned for more updates on these exciting new features. Get early access and lock in early-adopter pricing today!